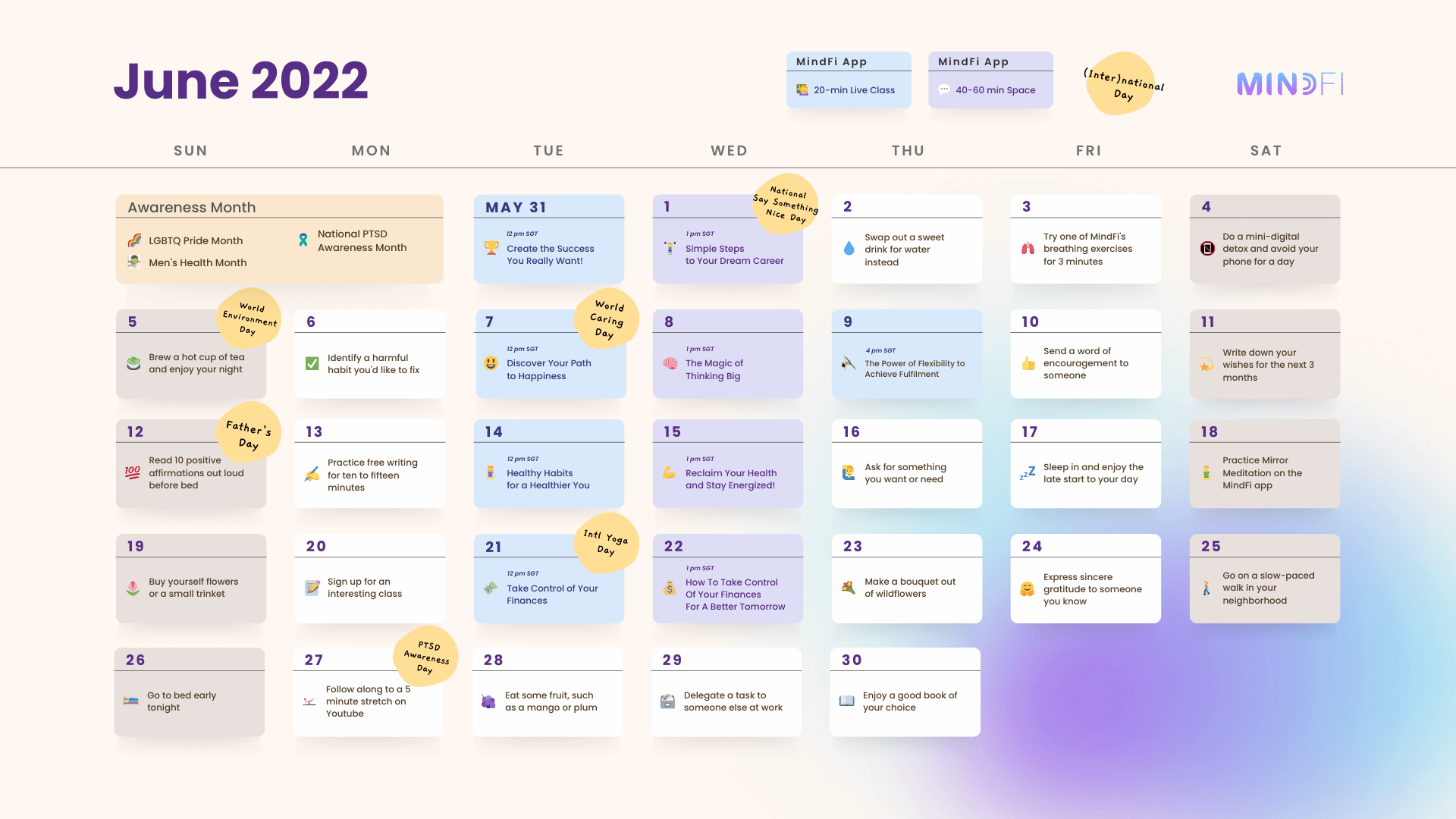 Make MindFi part of your mental wellbeing journey
We're almost to the halfway point of 2022. This June 2022 calendar is a continuation from our April 2022 and May 2022 calendars!
A few remarks from us:
🙆🏻‍♂️ June is Men's Health Awareness Month. Share appreciation for the men in your life and let them know that it's okay to be vulnerable.
🎠 We have an extra-special Live Class happening on Thursday, June 9th at 4 PM in our app. Meet Ulziibuyan Mergen, a globally-renowned contortionist, Cirque du Soleil troupe member, and mother of 2. There is no better person to teach you about cultivating mental and physical flexibility than an elite contortionist.
💪🏻 If MindFi usage is one of your company benefits, you may be eligible for a free 30-minute coaching slot on Wednesdays. Contact your HR manager for more information.
✅ We made a lot of changes to the app last month, some of which you might dislike or even hate. Let us know your thoughts in our 5-question survey and we'll try to implement fixes to make your experience even better.
Aside from our own events, our June 2022 calendar is full of inspiration for your home and workplace. Use our to develop an awesome wellbeing routine. Let us know if you use it!
Peep the wallpaper previews below — this is what the wallpaper looks like on a Macbook Air.
If you want to develop a powerful Employee Assistance Program that effectively safeguards the mental health, performance, and productivity of your employees, MindFi is here to help.